Team building
At Hinxton Hall Conference Centre we also encourage fun and offer alternative ways for your meeting delegates to get to know each other and relax.
Onsite team building events
We work with specialist events companies who offer an extensive range of team building experiences. From crime investigations and physically-invigorating challenges to film-making, we can help you identify the best fit for your event.
Team building in the Conference Centre Event Space
Inflatable fun
Evening entertainment
Crime Scene Investigation
Try some circus skills!
Inflatable fun
Half-day events
NewWave Events have run many successful activities for clients, making the most of our beautiful outdoor spaces.  Examples of their outdoor offer include:
And indoors:
Meeting add-ons
If you are looking for interactive evening entertainment as part of a multi-day event, you could try the following:
Private film nights
Turn our 290-seat auditorium into a private cinema for your guests: With a great sound system, HD video projection, comfy seating, and thousands of movies to choose from, the auditorium can be transformed for the evening. We'll even open the bar and have traditional cinema snacks and ice-cream tubs on sale!
Cocktail events and spirit tasting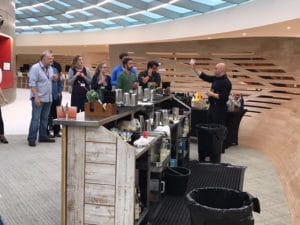 If you're after a unique drinks reception we are excited to be able to offer two genome-inspired cocktail experiences with Ace Bar Events, as well as a spirit-tasting master class for groups of 10-300 people. We have worked together to create two bespoke cocktail menus – Tree of Life (named after the beautiful decorations in our Event Space) and Science Lab – so you can treat your delegates to a more exciting drinks party.
If you'd like a combination of show and team work event, you could try their mixology and flair bar-tending event. Starting with cocktails on arrival, Ace Bar Events will show off their flair at bar-tending skills with an impressive mixology demo before handing over to your delegate teams to learn the ropes. The event will be designed to suit your group, and can comprise speed, creativity and flair rounds, and end in mix-off and prize giving!
Other ideas for evening events
Virtual, and not-so-virtual, activities to bring your team together
We have partnered with companies offering virtual team building sessions and will be delighted to assist you with this as a standalone option, or as part of a larger virtual/hybrid event.
Less virtual and more hands-on are these great cocktail/mocktail boxes offered by our partner Ace Bar Events! Their cocktail boxes come with everything you need to make professional cocktails from home or your office (the only thing you need is ice and some glassware, although they can also provide glassware if required).  They offer recipe cards with step-by-step instructions alongside a tutorial video, which can either be pre-recorded or streamed live, so your team can get together and enjoy some something different and fun together.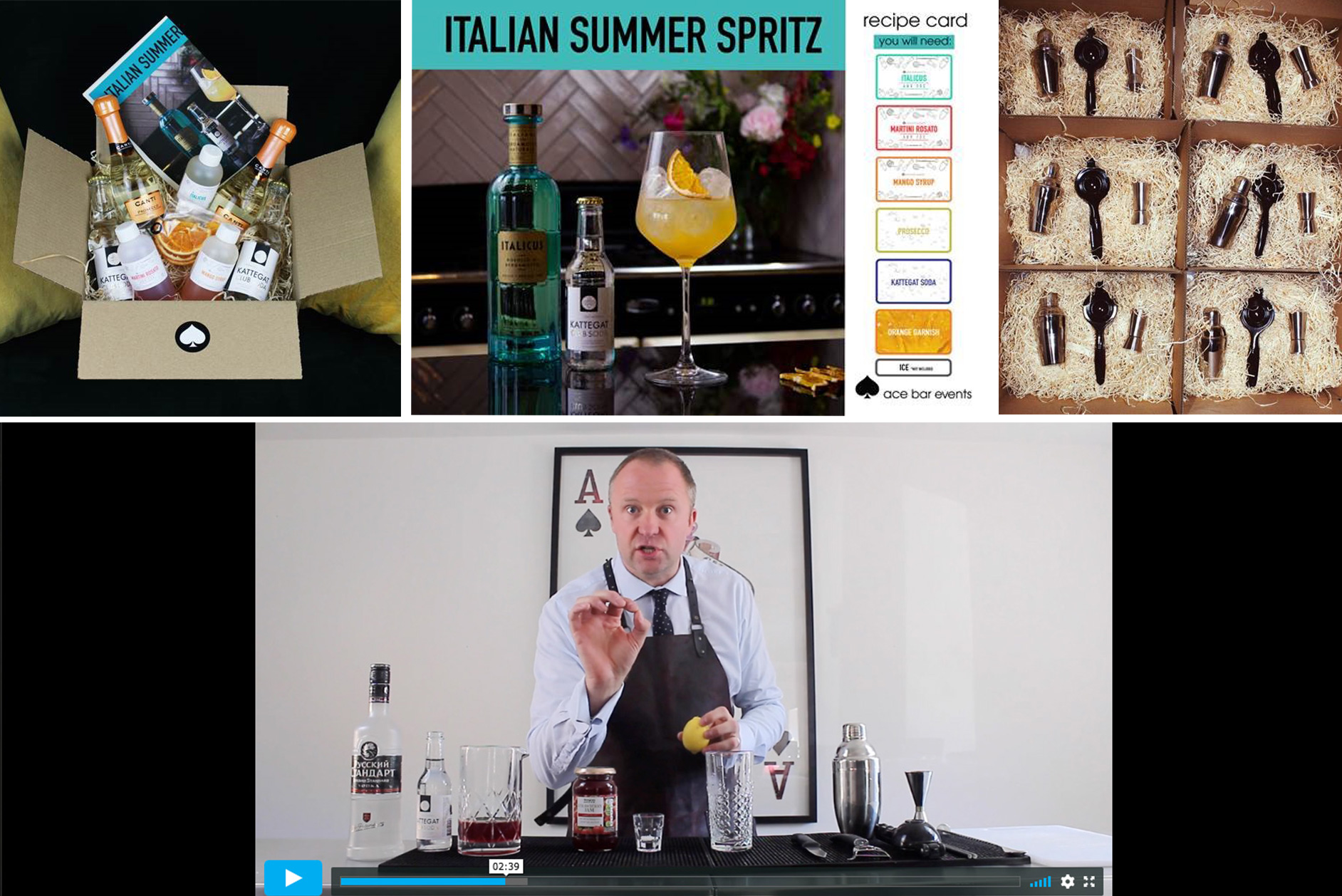 As you can see, there is a lot to choose from. We are happy to advise which are the most suitable events for our venue and to book these for you. Please contact us.
You are also welcome to use other providers if you prefer, but need to inform our team so that the necessary health and safety and public liability checks can be done.
Back to top