Volunteering at Jimmy's – a team effort
Earlier this summer, members of Hinxton Hall's conference and events team, and Restaurant Associates' front of house and catering team, went to volunteer at Jimmy's East Road venue, Cambridge's first all-year-round night shelter. The team refurbished some of the bedrooms, ready for the winter months when demand is particularly high.  See what they look like now on this update on Jimmy's website.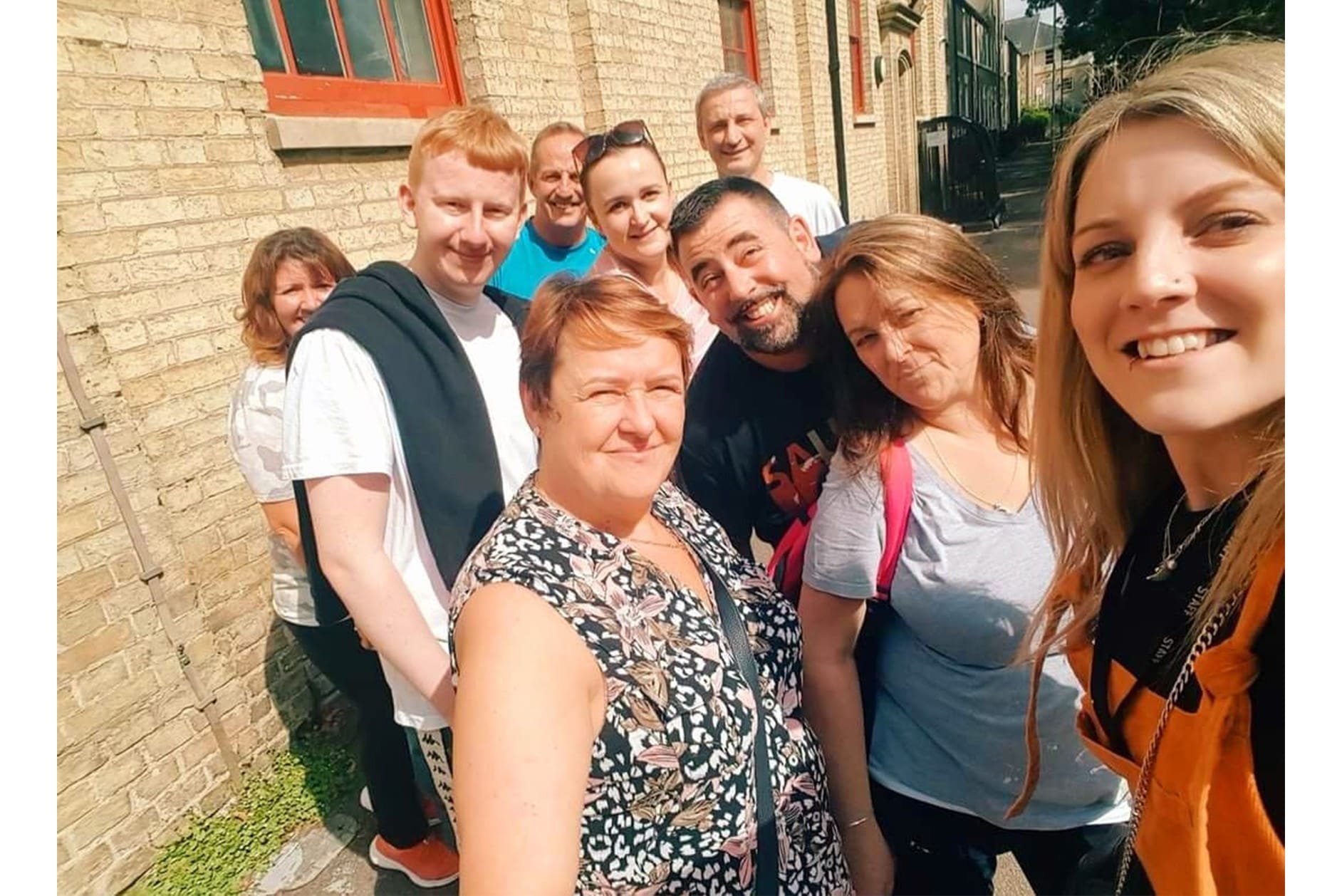 The team, ready for a day of enthusiastic painting!
We had a fun and rewarding day at Jimmy's Shelter in Cambridge, by assisting them with the refurbishment of bedrooms at their East Road site. The staff were friendly and welcoming and we were quickly in the swing of things! It was great to be able to work with the Restaurant Associates operational team, and I think each person found the day to be enjoyable and gratifying. The team at Jimmy's fed and watered us well as a reward for our effort (thank you!). By the time we'd all downed our paintbrushes at the end of the day, we had four newly-refurbished rooms and everyone left with a smile on their face. We are very keen to return to Jimmy's in the near future for another day of volunteering!
Amy Sullivan, Conference and Events Organiser, Hinxton Hall Conference Centre
Kelly and Alfie
Vaughan and Ildiko
Amy and Onesto
Jimmy's is one of the most prominent organisations within our community, supporting people who have been rough sleeping in Cambridge, and it has grown to offer a much wider range of support, such as personal support and a range of accommodation, tailored to the individual's situation.  The night shelter is open 24 hours a day, seven days a week. They provide over 400 people with support, serve 6,000 meals via community donations and have a dedicated team of 100+ volunteers who provide 25,000 hours of their time per year. Jimmy's is one of the two charities selected by staff across Wellcome Sanger Institute and Wellcome Connecting Science, to support as organisation in 2023-2025.
Our staff were able to volunteer during their working day, thanks to both our organisation and Restaurant Associates offering two days of paid volunteering leave a year. This encourages staff make a difference in our community, and improve their own wellbeing by doing so.
As you can see, our teams had a fantastic time and would highly recommend it!
Back to top