Interview with Andy Byrne, Head Chef at Wellcome Genome Campus Conference Centre
 How he goes about designing his menus and what we can expect this spring
At the beginning of spring and autumn, the menus change at the Wellcome Genome Campus Conference Centre.  We spoke to Andy Byrne, Wellcome Genome Campus Conference Centre's Head Chef from catering partner, Elior, to find out more about how he goes about designing these menus and what we can expect this spring.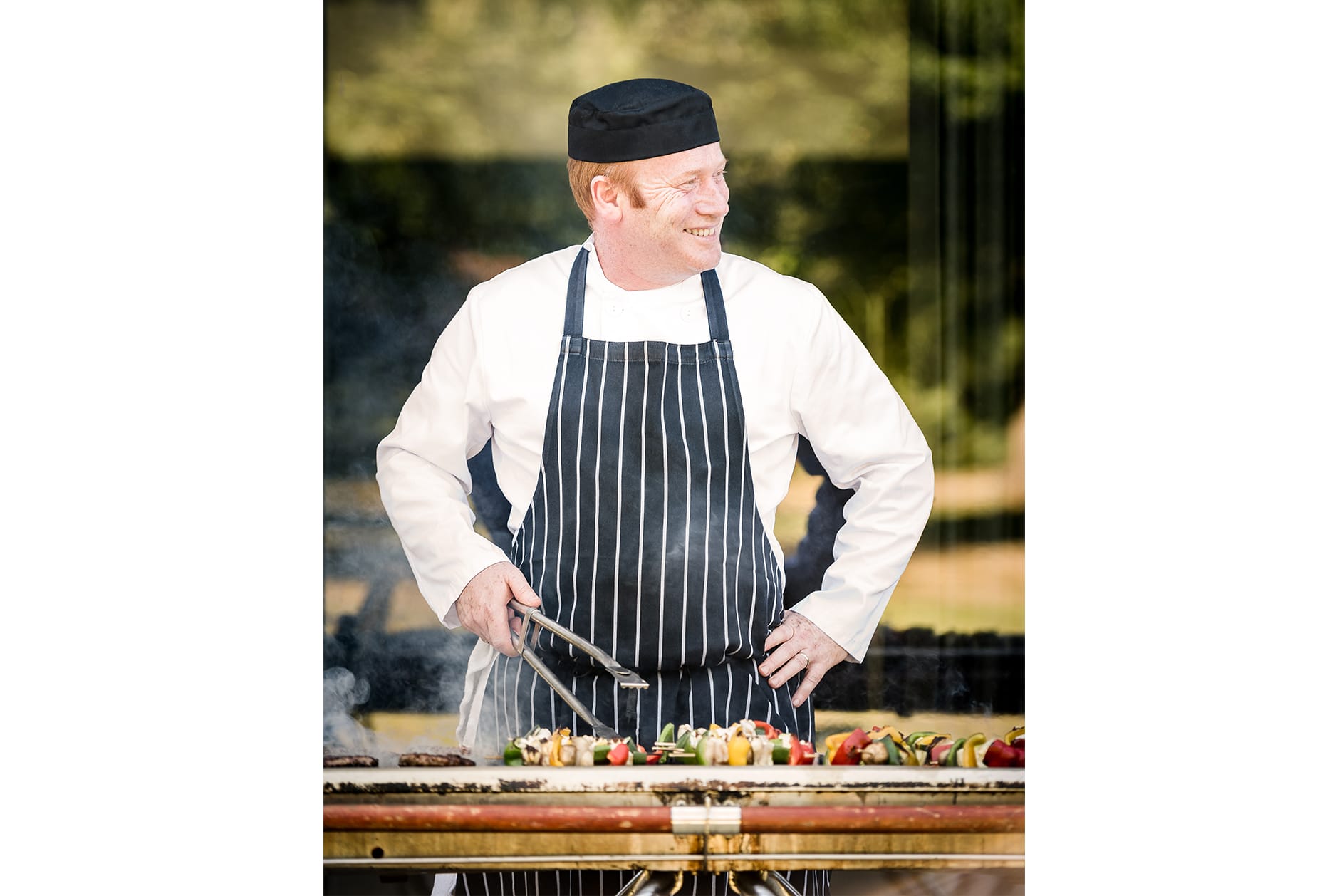 Q1: Which of the wide range of menus have changed, and how have they changed?
Every six months we update the finger food menu, our hot bowls, fine dining menu, and the hot buffet lunches and dinners.
Listed like that it doesn't seem like much, but actually the hot buffet lunch and dinner menus alone – i.e. the standard lunch or dinner served – means creating 84 new main dishes! How can that be?  Well, for each day of the week, for lunch and for dinner, we have one meat, one fish, and one vegetarian option. That's six main dishes per day, and our menus run on a two-week cycle, so multiply those six by 14 and they soon add up!
The change of menus between autumn/winter and spring/summer reflects the change in seasonal products.  These are essentially the same every other cycle, since the majority of the ingredients we use are locally sourced.  In our spring/summer menus, for example, you're bound to find asparagus and strawberries featured – fine ingredients, typical of south-east England. Our job is to find new ways of cooking and serving the same ingredients each time. Whilst one year we may simply serve strawberries and cream for dessert, on the new fine dining menu there is a variation on this: strawberries two ways with vanilla parfait and elderflower syrup.
Andy preparing bowl food dishes
Q2: Where do you get your inspiration to create all these new dishes?
The Wellcome Genome Campus Conference Centre is lucky in that I am one of the very, very few chefs from Elior who have the freedom to write his own menus. At other venues this is done by Elior's Development Chefs, and Elior venues have access to over 9000 menus for venues to choose from. We do use some of those, but if I want to create my own recipe then I can, and I then add it to the recipe database for others to use.
Creating 'new' recipes is about applying a personal twist to a recipe that most probably already exists. After all, we're not out to reinvent the wheel every time!  But we are good cooks and can see ways of creating interesting variations on classic dishes, that may incorporate current or up-coming fashions.
My team and I are constantly on the lookout for ideas or new techniques that we could bring to our menus. Some sources are the same as any normal person cooking.  For example, we read food blogs and catering magazines. By the way, if you're keen to know what's hot in mainstream cooking, keep an eye on what Marks & Spencer are up to – they have incredibly large teams of development chefs and like to stay ahead of the curb!
It's also important to keep an eye on what's going on around you in the local culinary scene. One day last November, for example, we visited as many food establishments in Cambridge as we physically could, sweeping the city west to east, and checking out the menus of everything from pastry shops to burger joints, gourmet food vans to the smartest restaurants.  It is good to know what's doing well and is in popular favour, i.e. what is fashionable.  Fashion is a fickle thing and it is important to know what's hot and what's not.  It's interesting that fashion is also circular, and dishes that were considered very dated can come back into fashion. For example, both prawn cocktail and chicken kievs are now considered acceptable again (if done well!).  I don't know whether this is due to nostalgia or the fact that they're essentially successful combinations.
I also go to London three times a year to visit different venues for which Elior does the catering, and it's great to see what's being done at their most prestigious venues, like the Bank of England. The budgets the chefs work to and the menu prices obviously make all the difference.
Q3: Could you tell us a bit about the work that goes into preparing a new menu? When does the process start, for example, and where the inspiration comes from?
As Head Chef, I work with ­the sous chefs, our pastry chef and the rest of the team to develop the menus together. Work on the new season's menus started in December, once all our big events were over for the year. The menus are not usually ready until early February, but the way our events bookings have fallen this January have allowed to get them finalised earlier than usual.
We start by informally discussing ideas that we have for the next menus.  This will be based on stuff we've read, tasted, and pondered over in the previous months.  The next step is to get these down on paper, and then we see how the dishes might fit together. For example, we don't want ingredients repeating themselves on one menu, and it helps if there is some overlap of ingredients between the meat, fish and vegetarian options for ordering efficiency.  It usually takes about three drafts of each menu to get this right.
We also need to think about whether the choices work logistically.  Something might be delicious, but can 300 samples be prepared when our restaurant is at capacity, and the dish still look perfect? If not, we need to find more feasible alternatives for the elements that do not resist the wait so well, or simply take too long.  This logistical perspective is very important when catering for large numbers.
By the end of February we are ready to hold our menu tasting sessions.  We prepare the menus for Connecting Science staff, served as it would be for paying delegates, and they give us honest, written feedback on each dish. This is an important step in the process on two levels. Obviously we want to see how well the dishes are received. As the tasting session is the first time we prepare these in any volume, this step also gives us insights into the presentation aspect.  For our last autumn/winter menu, for example, we had made cheese beignets.  The staff loved them, but we saw that they soon deflated and lost their form quickly, so they did not make it onto the final menu.  It also allows us to appreciate what the food looks like when laid out in volume. We might realise, for example, that one colour dominates, or that the spread is not colourful enough.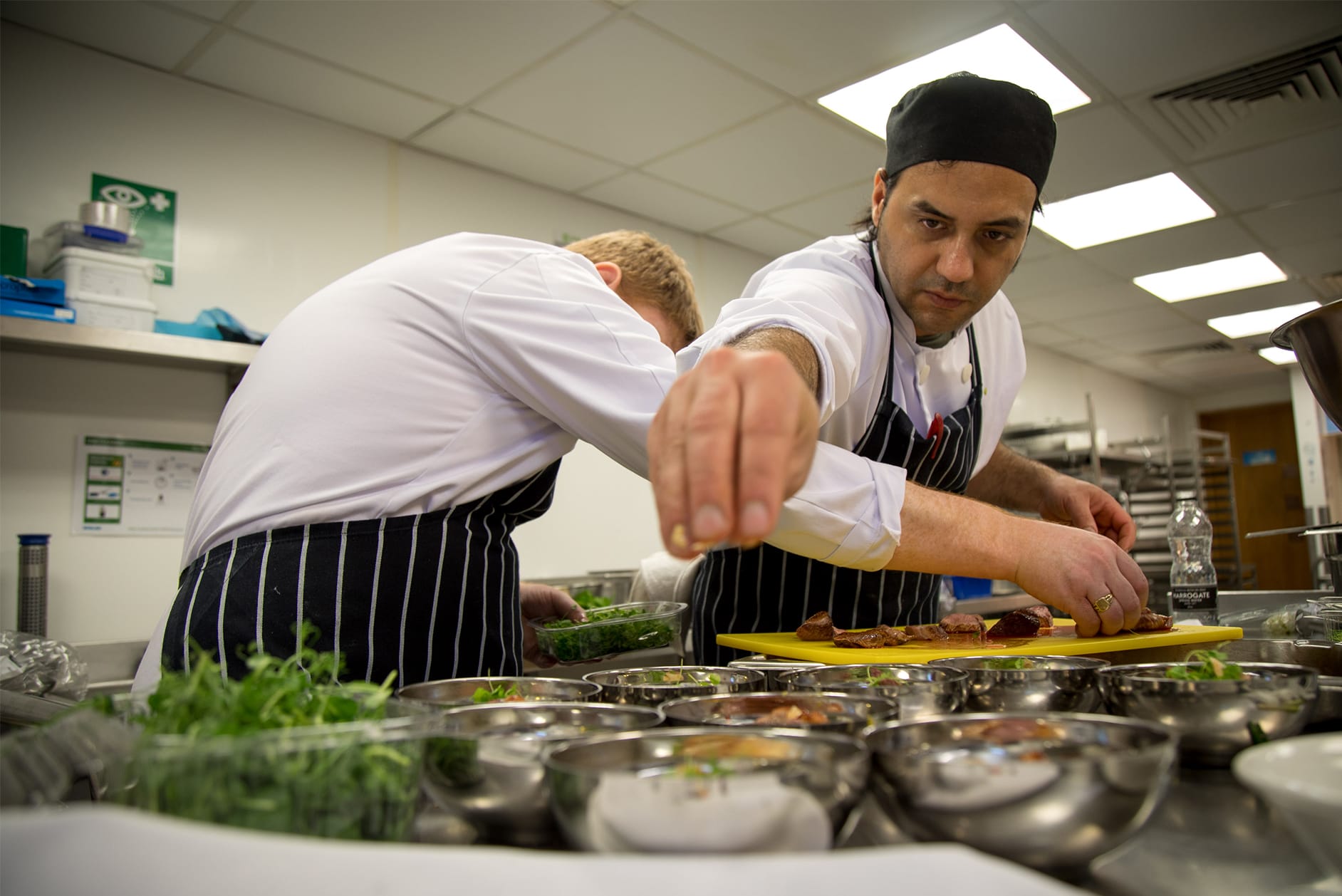 Q4: What is your personal favourite dish on the new menu, and why?
This is a very hard question for a chef! I like every single dish on the menu for different reasons. But if you make me choose today, I'd say that I particularly like dishes that are simple yet full of flavour.  I love the smoked salmon and avocado starter (fine dining menu) because of its simplicity and I because I like how summery it is.  Or the pulled pork hoi-sin and spring onion parcel with sweet and sour cucumber (also a starter from the fine dining menu). The sweet and sour cucumber and star anise give it a freshness that is just amazing.
Preparing the menus is like a complex 3D puzzle. We need to prepare excellent food within a certain budget, which caters to as many people's tastes as possible and can withstand being served in volume and in different environments.  It's good fun but takes a lot of time to get it right.  Doing it twice a year gets you into good practice though!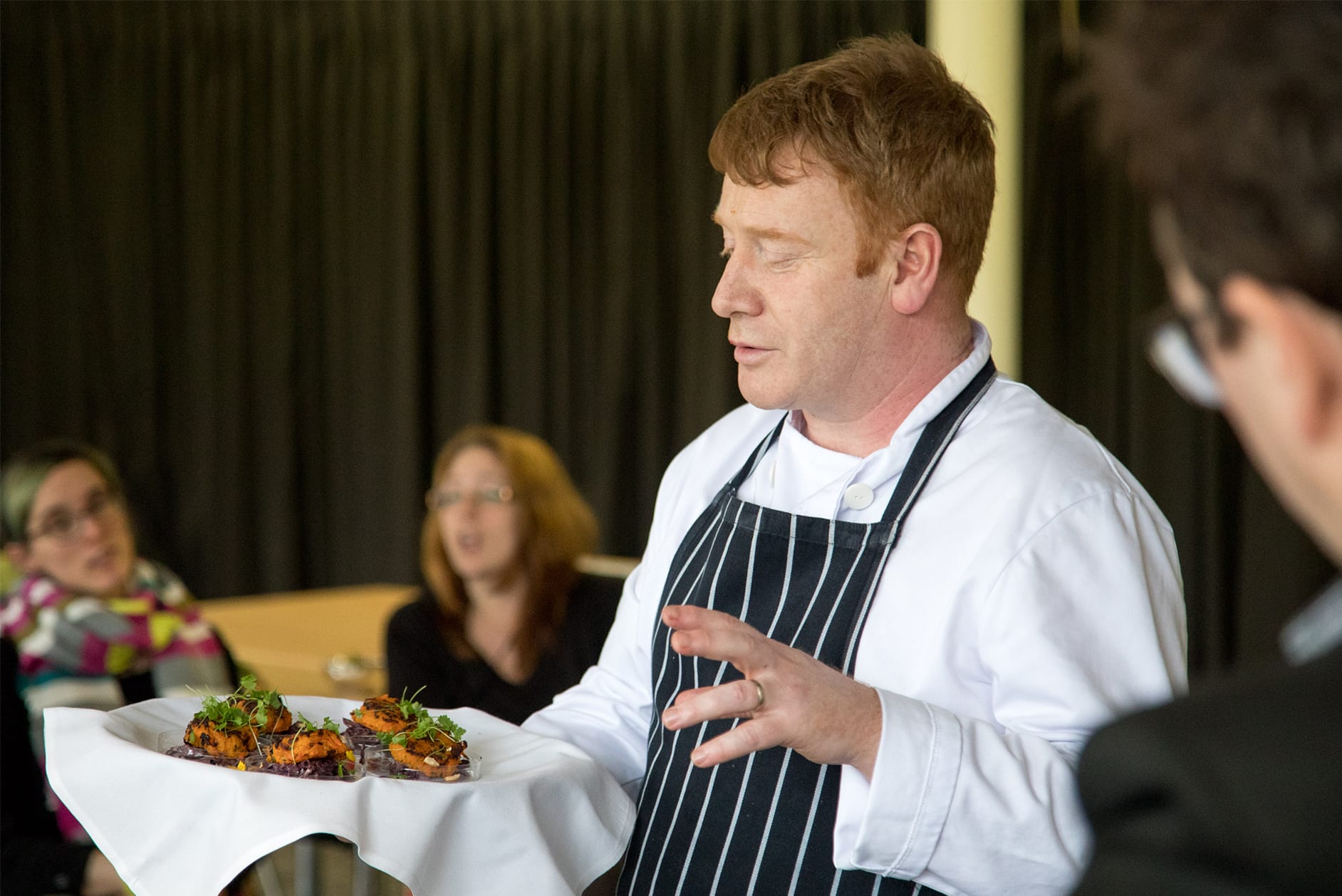 Back to top