Insights into hosting the UK's first Citizens' Jury on genome editing
Interview with Conference and Events Organiser, Amy Sullivan
In September 2022, Hinxton Hall Conference Centre hosted the UK's first Citizens' Jury on genome editing, organised by our Wellcome Connecting Science colleagues from Engagement and Society with Genetic Alliance UK, and facilitated by Involve UK.
The Jury comprised 24 members with lived experiences of a genetic condition, who came together over four days to deliberate over some challenging questions on the topic, whilst supported by facilitators and leading experts on genome editing. They deliberated on question such as, Are there any circumstances under which the UK Government should consider changing the law to allow intentional genome editing of human embryos to prevent serious genetic conditions? And, if the law were changed, what should the role of the private sector be, and what type of governance and accountability should be put in place? The final report putting forward the jury's recommendations is currently being prepared, along with a short documentary on how the jury reached its conclusions. These are due by the end of the year.
Hinxton Hall's location on the Wellcome Genome Campus, alongside two world-leading genomics institutes, made it the ideal venue for the event.
We spoke to Amy Sullivan, one of our Conference and Events Organisers who managed this booking, and asked her what made this event different from the usual bookings the Conference Centre manages.
Q: What was unique about this event?
Amy: The Citizens' Jury was made up entirely of members of the rare genetic disease patient community. It was also a residential jury where all jurors stayed on location for the duration of the event.
Jurors in a brainstorming session
Q: What challenges did event pose and how were these overcome?
Amy: Some participants had complex mobility requirements. We met the needs of the group by firstly carrying out a thorough walk round the venue with the organisers and identified specific mobility issues or barriers. We then communicated with the wider Campus Health and Safety team to implement specific actions to overcome the identified issues and mitigate risk, such as establishing alternative access points in and out of the Conference Centre buildings, using an accessible route to the Dining Room as the default, and creating extra space on tables for all wheelchair users. We ensured that all drinks counters and refreshment stations were accessible. We assessed and modified our accessible facilities including stair lifts and toilets, and additional amenities were placed in areas where they were needed. Health and safety training was sourced and arranged for organisers ahead of the event, to better equip them to handle emergency situations should they arise.
We provided additional signage for obstruction-free travel around the site and ensured pillars were highlighted in high visibility warning tape to better improve navigation around the Conference Centre and Hinxton Hall.
We completed a PEEP (Personal Emergency Evacuation Plan) for every guest staying with us with additional mobility requirements, ensuring that everyone in the wider team were notified in advance. This helped the Reception team with allocation of bedrooms and the operational team responsible for managing aspects of the event each day. It also provided the attendees with an improved level of comfort and reassurance that we were aware of their needs.
Many of the jurors arrived with young children and carers, who required additional spaces and amenities throughout their stay. To ensure this group were as comfortable as possible, I worked closely with the Reception team to ensure items such as cots, high chairs, and fridges were allocated to their bedrooms. We guaranteed the rooming allocations worked well for those who needed to have carers and assistance close and were also able to offer our family room as a private and comfortable space for this group.
The week-long event was fully catered, requiring a variety of different catering styles. We were able to accommodate late stayers and early arrivals by offering grab bag evening meals, and additional catering at short notice. We were able to overcome the challenges posed by complex dietary requirements, by offering additional fridges in bedrooms for those who needed to store personal food and medication. I was also able to communicate with our Chef directly to ensure all dietary needs were catered for.
Many of the attendees required resting breaks throughout the day. Housekeeping and Reception were able to assist by providing them with pillows and blankets in the meeting room to accommodate their needs. These seemingly small touches made a big difference, and helped all participants feel relaxed and looked after.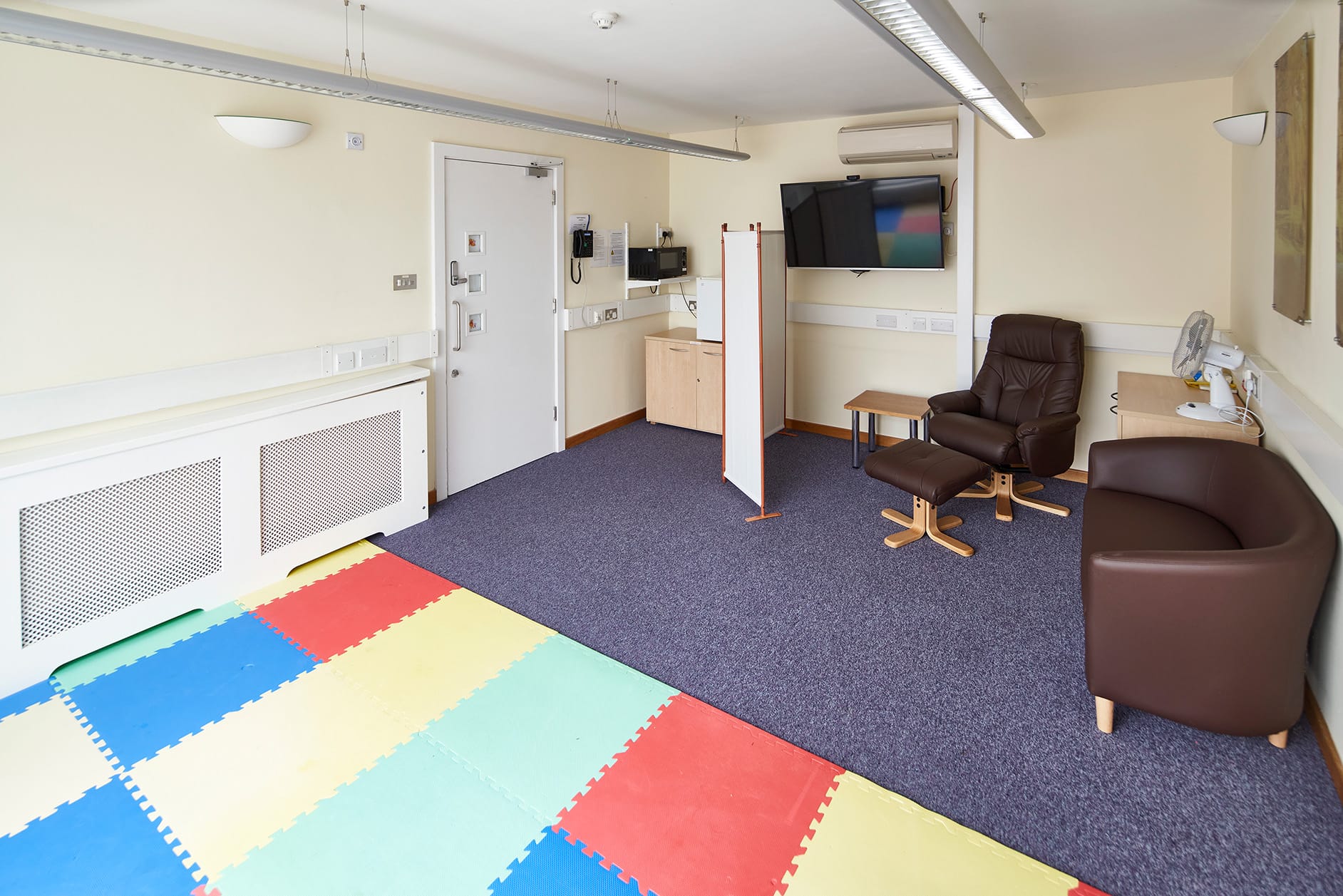 Our Family Room has comfortable seating, a padded play area, microwave, fridge, and a screen to which sessions can be streamed.
Q: What impact did the changes we made have, and what feedback did you have?
Amy: We received extremely positive feedback complimenting all elements of the event from initial event organising assistance, right through to the daily catering. Conference Centre staff were praised on their positive approach and ability to be flexible and accommodating with shifts in timings. Reception staff were commended on their ability to assist attendees with specific requirements such as additional quiet spaces for resting periods. The organiser fed back that 'the Conference team adapted the environment brilliantly to accommodate the specific needs of our jurors. Not just in terms of their physical needs but emotional too.' And the whole team were 'a constant source of joy and energy'. Further feedback from the jurors themselves included '5 stars, no problem too great or too small, a home-from-home experience'.
Q: What made the event a success?
Amy: Team work and collaboration ensured this event was a great success. There was frequent and effective communication with the Wellcome Connecting Science event organiser and their partners, right from the initial planning stages. The advice and direction we received from our Campus Health and Safety team around access and mobility requirements was also key.
Support from the wider Conference Centre team including management and operations with their ability to adapt quickly and to be flexible with the arrangements as they evolved, was also central to its success. As were our Front of House and Reception staff with their capacity to provide the warmest of welcomes, making all attendees feel comfortable and relaxed.
Q: Has this experience made you consider events differently?
Amy: The Citizen's Jury event has highlighted to me how adaptable we are as a conferencing venue and as a team. The event has made me more mindful of the scope of additional requirements attendees could have, but more importantly the solutions that we can propose to future clients to meet their needs. Citizen's Jury opened my eyes to the importance of accessibility and inclusion in events, and how this can be achieved through diligent planning and problem solving.
From a personal point of view, I found myself genuinely curious about the objectives of this event and inquisitive about the topic of discussion. I found that by gaining insight into the event's core purpose, that I became more immersed and enthusiastic about the planning process. This event has made me more mindful to ensure I grasp the purpose of future events, to enable me to provide alternative suggestions and advice to organisers when they choose Hinxton Hall Conference Centre as their event venue.
Thanks so much for your time, Amy!
If you think that Hinxton Hall Conference Centre and our team are the venue to host an event you have in mind, do not hesitate to contact us.
Read more
Read more about the Citizens' Jury, what it is and why it was commissioned.
Back to top