Hinxton Hall Conference Centre awarded silver Green Meetings award
Top sustainability award for Hinxton Hall Conference Centre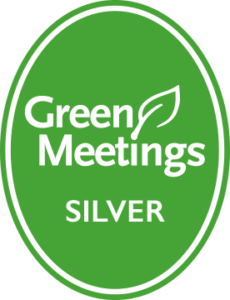 Hinxton Hall Conference Centre, based at the Wellcome Genome Campus, has achieved a Silver Award from Green Tourism, the largest and most established sustainable certification programme in the world.
Hinxton Hall has consistently invested time and effort into reducing the impact of the business on the environment, and are delighted with the result of their first GreenCheck assessment.
The Conference Centre hosts a variety of events from large-scale conferences with exhibitors to training courses and afternoon tea weekends, welcoming over 20,000 people on a yearly basis.
A Green Tourism Award demonstrates that a business works responsibly, ethically and sustainably, contributes to their community, is reducing their impact on the environment, and aims to be accessible and inclusive to all visitors and staff. Businesses that meet the required standard receive a Bronze, Silver or Gold award based on their level of achievement; scores of 65 per cent and over are eligible for Silver accreditation.
Getting all the information together for the application was a lot of work but very satisfying, as it gives us a comprehensive and detailed overview of exactly how much we have already achieved, and where we can focus on for improvement. We are very lucky that our Campus Estates and Facilities team has a strong commitment to sustainability, and can give us the data we need to make informed decisions on how best to reduce our environmental impact, step-by-step. Green Tourism were very helpful and guided us through the assessment, and we look forward to working on the action plan they have suggested as part of it.
Kelly Butler, Business and Events Senior Manager at Hinxton Hall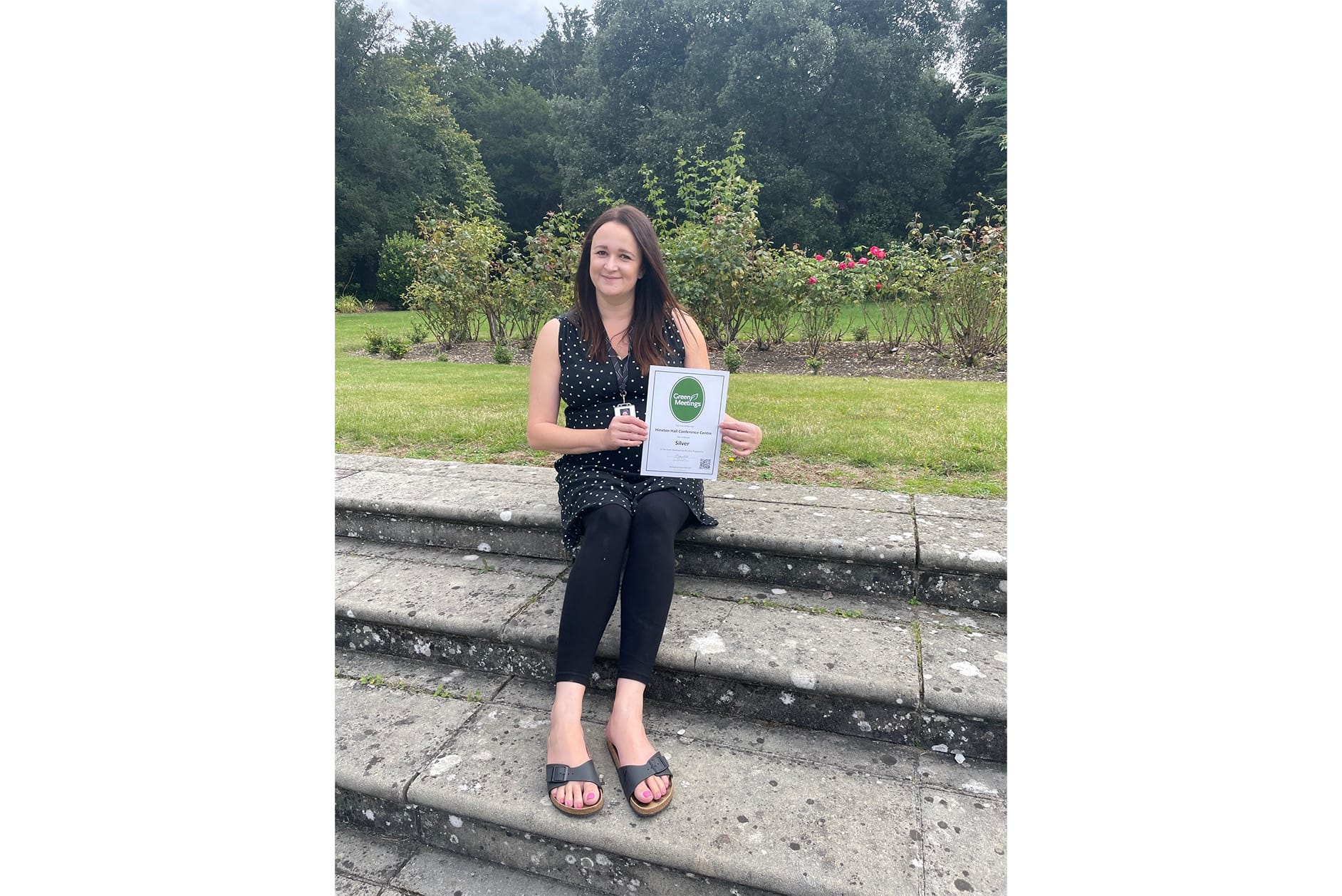 Kelly Butler, Business and Events Senior Manager, holding Green Tourism award certificate
To achieve accreditation, a qualified assessor graded Hinxton Hall against a rigorous set of criteria covering a range of areas such as energy and water efficiency, waste management, biodiversity and social involvement, and communication. Hinxton Hall has been particularly keen to measure and reduce their environmental impact as part of the sustainability strategy of the Wellcome Genome Campus. Included within this, it has facilitated sustainable travel options for delegates, and promoted inclusivity and accessibility.
These were the areas of Hinxton Hall's performance highlighted by the assessor:
Equality, Diversity, & Inclusivity – Excellent commitment to ensuring that Hinxton Hall Conference Centre is welcoming and accessible to all.
Travel – Strong Commitment to promoting and facilitating sustainable travel options for delegates.
Health & Wellbeing – Very Strong performance in all areas of protecting and supporting staff and customer health and wellbeing.
Water – Several examples of best practice on display including water conservation and protecting water quality measures.
Energy- Hinxton Hall have shown a willingness to undertaking actions that are both good for the planet and also helping to reduce their energy costs.
The team at Hinxton Hall Conference Centre has done a great job in achieving the Green Meetings Silver award following on from their first GreenCheck Assessment. They have displayed a good understanding of sustainability and awareness of opportunities and challenges associated with running a responsible conference centre. While at the start of their sustainability journey with Green Tourism, they have shown a willingness to learn more, and if they undertake some of the points raised in the action plan I have no doubt that they will continue to gain a higher level of award in the future.
Euan Haggart, Green Tourism assessor
Back to top