Booking.com visitors gave us 9/10 again!
Traveller Review Awards 2020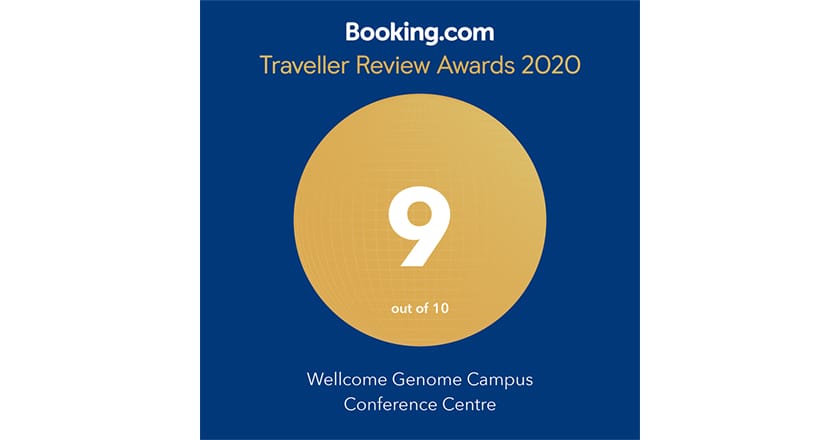 Visitors using the Wellcome Genome Campus Conference Centre bed and breakfast offer recently rated us as 'wonderful' on booking.com!  Their reviews highlighted friendly staff, beautiful surroundings, and comfortable beds as their favourite things about their stay with us.
<h5″>Some of our most recent reviews:
"A very good place to stay – wish we had stayed longer to enjoy walks around the campus parkland." – Shelagh, UK (Dec, 2019)
"Travelling to any meetings on the campus or close proximity would definitely favour this place." – Ulvi, Estonia (Nov, 2019)
"Perfect situation and accommodation for a weekend with friends" – Michael, UK (Nov, 2019)
"Rooms are excellent, staff very friendly and Campus has nice scenic areas if you fancy a walk." – Stephen, United Kingdom (Oct, 2019)
"Excellent and unusual" – Gavin, Belgium (Oct, 2019)
Many thanks to everyone who has taken the time to write reviews and tell us what they liked (and disliked) about their stay.  We have been acting on visitor feedback since we opened our B&B doors in 2018 with the aim to improve our offer and exceed everyone's expectations.
Back to top