Behind the scenes at Hinxton Hall Conference Centre kitchens
Interview with our Head Chef, Chris Daniel, introducing you to the kitchen team, and taking you on a behind-the-scenes tour of where our delicious food offer is prepared.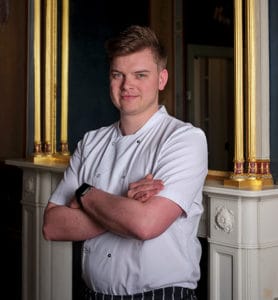 As we settle into our partnership with Restaurant Associates, we thought we'd introduce you to the team in the Hinxton Hall Conference Centre kitchen, and take you on a behind the scenes tour of where our delicious food offer is devised and prepared. Chis Daniel, has been the Hinxton Hall Head Chef for over a year, and has shared his perspectives with us.
Q: Can you give us an introduction to the kitchens and the kitchen team at Hinxton Hall.
CD: The kitchen at Hinxton Hall is a medium-sized professional kitchen, and the current core Restaurant Associates team is: head chef (me), sous chef (Onesto), pastry chef (Katrina), two chefs de partie (Ildi, Snezhina), and the storeman (Vaughan). We also have some team members who are from an agency, or who may be brought in when needed. And we're also recruiting for an additional chef de partie and a breakfast chef.
The core team works full time, and covers every day of the week.
Q: What does each team member do? How do they fit together as a team?
CD: As head chef, I do all the food ordering, handle guests' allergen requirements, and manage the other chefs and their daily prep lists (otherwise known as mise en place – a culinary process in which ingredients are prepared and organised in a kitchen before cooking).Sous-chef Onesto is my eyes and ears on the ground, and oversees the team and the running of the kitchen on a daily basis. Whilst he works on today's food, I work one week in advance, on the following week's menus, and organise food deliveries four days in advance.
Between them, the chefs de partie are in charge of preparing the finger buffets, the hot buffet lunches, and salad bars. The pastry chef makes all the sweet things, from the mid-morning refreshment snack to the fine dining desserts. Whilst everyone has their area of responsibility, we obviously all work as a team and share many other tasks and courses between us.
Sous-chef, Onesto
Chef de partie, Ildi
Pastry chef, Katrina
Head chef, Chris
Q: Run us through a day in the life of the Hinxton Hall kitchen team: What time do things start in the mornings, what's the schedule for breakfast, lunch, dinner, and what needs to be prepared by when for each?
CD: The breakfast chef arrives at 6am to start serving breakfasts at 7.30am. The rest of the team get in at 6.30am, unless they're on a later shift.
The only sitting with a fixed time is breakfast (7.30-9am). The timing of all the other meals (lunch, dinner, and refreshments) are decided by the clients' schedules. Hot food is ready 15 mins before it needs to be served, and cold food, such as sandwiches, and savoury and fruit salads are prepared in the morning.
At the end of the day, the chefs leave once all the food has been served and there are no other requests. The front of house staff can be here much later!
Q: How many plates get served and washed on a busy day?!
CD: Anywhere between 1,200 and 2,000 plates, depending on how many people we have in! It also depends on whether guests use napkins or plates at mid-morning refreshment breaks, or whether we are serving food in small bowls for a large group.
Onesto checking the prep list
Q: Please tell us about some of the most distinctive features of the menus?
CD: Our fine dining menus are plant-forward, which have a 70/30 ratio of plants to meat. Plant-forward is a style of cooking and eating that emphasises plant-based foods. They are not to be confused with plant-based and vegan dishes (which we also have), since these still have meat, but the amount of meat and animal products is reduced. This reduction is a conscious move acknowledging the detrimental effects extensive meat consumption has on the environment, so we are focussing on our contribution to that, whilst not eliminating it completely. So, for example, whilst before our sauces may have contained animal products, they're now all vegan.
For all our menus we're giving interesting salads more prominence. Sustainability is an integral part of the Restaurant Associates ethos, and all the food we serve meets high standards in terms of responsible farming and production (see here for all our food sustainability pledges). Over 90% of our fresh produce is sourced locally in the UK, due to our British-first sourcing policy on all fresh produce.
Q: What are you most proud of, with regard to the food offer?
CD: I am very proud of the consistently high standard of the food we produce, given the volume we serve every day. I don't think many places manage as well as we do on this front!  For example, on a busy day last Tuesday, this is the number and variety of dishes our team worked on, catering for four concurrent events: 177 daily bakes and morning refreshments; hot buffet lunch with salad bar for 68, two different finger buffets each for 100 (comprising hot and cold elements), sandwich lunch for 10, grab bag for one; afternoon tea for 17, afternoon bakes and refreshments for 177; and a BBQ for 90 people.
I also love how colourful and nicely finished our dishes are, with plenty of fresh herbs (some from our own grounds), lemon zest, or pomegranate seeds, for example. And I am proud of how hard we work to make sure guests with different dietary requirements are well catered for, so that everyone eats well.
Broccoli, kale and super green pesto salad
Applying the finishing touches
Q: Could you tell us something which you think people not familiar with the hospitality industry would not know, and find interesting?
CD: This is a hard question because everything we do seems normal to us! Did you know we butter bread using the back of a spoon rather than a knife? It's much easier! We also peel ginger with a spoon rather than a peeler as you get a lot less wastage.
We get 25kg sacks of 'dirty potatoes', which haven't been washed clean with chemicals, and we scrub and peel them ourselves. About 40kg of potatoes are needed to make fish pie for just one average-sized dinner sitting – that's a lot of potatoes to scrub and peel, so we usually all muck in. A good opportunity for team work!
Thanks so much for this fascinating insight into your world, Chris!
If you would like to see more of Hinxton Hall in images, follow us on Instagram.
Back to top